Ricardo Alvarez was a Latino inmate featured in Oz. Portrayed by Tomas Milian and George A. Aguilar.
"Prisoner number 43A515, Ricardo Alvarez. Convicted March 3, '43 - Armed robbery. Sentence: 20 years. Convicted again June 6, '61 - Murder in the first degree. Sentence: Life imprisonment, solitary confinement."
The grandfather of inmate Miguel Alvarez and the father of inmate Eduardo Alvarez, he is serving life imprisonment in solitary confinement for murdering a Haitian inmate who cut out Eduardo's tongue. He dies due to Alzheimer's disease at the end of Season 1.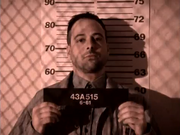 Ricardo appears at the request of Father Ray Mukada to discuss the birth of new inmate Miguel Alvarez's son. Miguel is Ricardo's grandson, whom he has never met, and has no intention of taking responsibility for the baby that is being born. Mukada wants to help end the cycle of the Alvarez family incarcerations as three generations are all serving time at the Oswald State Correctional Facility. The baby's mother who was with Miguel when he was arrested is also incarcerated on different charges at a nearby women's prison. When discussing the issues pertaining to mistakes in fathering, Mukada is convinced that Ricardo does feel a sense of responsibility to help end the negative cycle when he finds out why Ricardo is serving time in solitary. 
Ricardo went to prison for armed robbery in 1943 as Eduardo was being born. He did not see his son again until 1961, when Eduardo came to Oz as a prisoner at eighteen years old. Eduardo disrespected a Haitian inmate who exacted revenge on him by cutting out his tongue preventing him from being able to speak. Ricardo then vengefully cut out the Haitian's heart and was sentenced to life in solitary confinement. For killing a man who harmed his son, Mukada sees that Ricardo was in fact a loving parent who sees the importance of protecting family members. From here, Mukada tells Ricardo not to talk to Miguel for his sake or Eduardo's sake but for the sake of Miguel's baby - Ricardo's great-grandchild. Ricardo and Eduardo visit, verbally and subliminally telling him to take responsibility for the child being born, causing Miguel to have a change in heart. Tragedy however occurs after Miguel's baby is born, as it dies to a bad liver caused by the drugs used by Miguel and the baby's mother Maritza before the baby's birth.
After this happens, Ricardo begins to lose his mind and gets Alzheimer's disease. He does not know where he is and is deemed as a non-threatening inmate by Mukada and Sister Peter Marie. When Warden Glynn refuses to let him go for legal reasons, Miguel and Eduardo take care of him in the hospital ward until his death occurs.
Personal
Community content is available under
CC-BY-SA
unless otherwise noted.