Li Chen
First appearance
"Dream a Little Dream of Me" (episode 5.03)
Last appearance
"Next Stop, Valhalla" (episode 5.04)
Reason/Cause
Murdered by Cyril O'Reily
Details
Prisoner No.
02L333
Aliases
Dragon
Gender
Male
Age
26 (Deceased)
Date of Conviction
January 14, 2002
Date of Death
January 27, 2002
Affiliations
Jia Kenmin
Spouse
Unspecified
Relatives
Unspecified
Kill Count
0
Episode Count
2 Episodes
Portrayed by
Nelson Lee
Li Chen (Chinese: 李陈) was an Asian inmate featured in Oz. Portrayed by Nelson Lee.
"Prisoner number 02L333, Li Chen. Convicted January 14, 2002 - Four counts of attempted murder. Sentence: 32 years, up for parole in 20."
In the previous season, Chinese prisoner Jia Kenmin challenged Ryan O'Reily to a fight, but Ryan's brother Cyril overreacted and attacked Jia putting him in hospital. Jia returned to Em City on his own request, and also asked to apologise to the O'Reilly brothers claiming that he was at fault for what happened. Cyril accepted but Ryan remained skeptical, at around this time, another Chinese criminal, by the name of "Li Chen" arrived having been arrested for four counts of attempted murder.
Li was (presumably) sponsored by Jia Kenmin, and both of them joined the prison's singing lessons taught by Suzanne Fitzgerald - Ryan's real mother. Still being suspicious of Jia, Ryan warned him that no harm must come to Susanne or else he would kill him. Jia reassured Ryan that he had nothing to fear - from him at least. Li Chen however was (according to Jia) a "different matter"...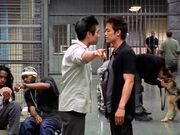 Sometime later, Jia ordered Li to kill the O'Reily Brothers, adding that he should go for Ryan first, as it would be easier to get Cyril with him gone. At that same moment, prisoner Glen Shupe told Ryan that he had heard Li tell Jia that he wanted to rape Suzanne Fitzgerald. Ryan saw that Jia and Li appeared to be arguing, and asked Jia if what Shupe said was true. Jia confessed that Li was "out of control" and he had no idea how to stop him, so Ryan picked up a weapon and stabbed Li in his back. The attack had very little affect on Li, who managed to hit Ryan so hard he dropped his weapon. It turned out that Jia and Li had been anticipating this event so they could kill him. Li and Ryan fought for a while, in full view of the other prisoners, and Li had a clear advantage until Cyril, in an attempt to protect his brother, stabbed Li Chen in the heart, killing him. Cyril was sentenced to death for Li Chen's murder.
The song that plays during Li Chen's crime flashback is "Hard Life" by Brian Lau. An instrumental version of the same song by Tony Tam can be heard in the video game Sleeping Dogs.
Li and Jia probably belong to the same Triad family as they share the same Triad tattoo on their left hand.
Community content is available under
CC-BY-SA
unless otherwise noted.