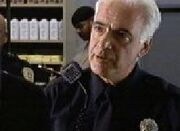 Joseph Mineo is is a correctional officer played by Philip V. Scozzarella
A veteran Correctional officer, he is often preferred by Unit Manager Tim McManus. For the most part Mineo is a good and honest CO and unlike some of the other Italian-Americans on the staff, he is not shown assisting the Italian mobsters incarcerated in Oz. Mineo is one of the only officers who recurs continuously for all six seasons, and the character, though background, has appeared on the show more often than any other.
Joseph Mineo can be seen in Emerald City's background almost the whole season. When new CO Anthony Nowakowski arrives, Diane Wittlesey tells him that Mineo is there for two centuries. Although it's never shown, when Miguel Alvarez's son died, Mineo made a joke. During the riot, Alvarez beat Mineo badly in revenge. Tim McManus offered himself in an exchange. They would let Mineo and CO Jason Armstrong get out and he would stay. The inmates accept and Mineo goes safe.
Mineo is seen on background the whole season.
When Andrew Schillinger is convicted, Mineo makes fun of Vernon Schillinger, telling him that Andy is in his favorite unit, Emerald City. When Carlo Ricardo's sister comes to see her brother Mineo denies her as Ricardo was in the hole. She talks to McManus, who lets her write a letter to Ricardo. He asks Len Lopresti who is in charge of AdSeg, to give Ricardo the letter. Mineo asks Lopresti if he is a letter-boy to the Latinos. Lopresti then throws the letter in the trash can.
Mineo is one of the white COs who is transferred out of Emerald City by Martin Querns.
Mineo has been transferred back to Emerald City and is mainly just background.
Mineo is again mainly seen as a background character.
Community content is available under
CC-BY-SA
unless otherwise noted.