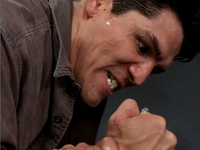 Jose Torres is a Latino inmate featured in Oz. Portrayed by MMA fighter Frank Shamrock.
Torres was the original leader of the Latinos or "El Norte". He was never seen at all during the first season but was mentioned to have been released from Oz on parole. Following his parole, Miguel Alvarez is appointed as the new leader of El Norte.
Torres makes his first formal appearance. He is back in Oz, presumably for parole violation, and is seen trying to stab another Latino inmate, Carmen Guerra, in the neck and appears to be succeeding when the COs break the fight up. When Guerra is asked by McManus why Torres was trying to stab him, Guerra told McManus that he didn't know and that Torres was just crazy. Although, as Torres and Guerra were both in Oz prior to the show taking place it may be possible that Torres and Guerra had a prior vendetta that Guerra had simply forgotten.
Community content is available under
CC-BY-SA
unless otherwise noted.