Jorge Vasquez
First appearance
"The Routine" (episode 1.01)
Last appearance
"Cuts Like a Knife" (episode 4.12)
Reason/Cause
Killed by Miguel Alvarez
Details
Prisoner No.
92M220
Aliases
None
Gender
Male
Age
30s (Deceased)
Date of Conviction
Sometime in 1992
Date of Death
January 28, 2001
Affiliations
The Latinos
Spouse
Unspecified
Relatives
Unspecified
Kill Count
0
Episode Count
13 Episodes
Portrayed by
Jose Hernandez Jr.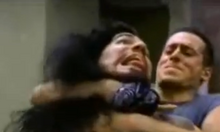 Jorge Vasquez was a Latino inmate featured in Oz. Portrayed by Jose Hernandez Jr.
Vasquez is mostly a background inmate, being first seen in Season 1. Vasquez rarely had any significant appearances.
Vasquez is a member of El Norte. He serves under Jose Torres until Torres is paroled, and Miguel Alvarez gains control of El Norte. Vasquez is a part of Alvarez' riot squad during the Emerald City takeover in 1997.
Following the riot, Vasquez is placed in Unit B, along with many of the other prisoners who survived the riot. Vasquez is one of the Latinos let back into Em City, when McManus re-opens the unit. Vasquez supports Raoul "El Cid" Hernandez's takeover of El Norte.
Vasquez is seen to be in Miguel Alvarez's corner during the boxing tournament.
In the second half of season 4, many Chinese refugees are held temporarily in Em City, one of them is Bian Yixhue. After Enrique Morales gains Yixhue trust, he asks him to kill Burr Redding. After Yixhue declines, Morales kills Yixhue in the storage room with a staple gun, while Vasquez and another Latino held him down. The murder is pinned on Redding.
When Miguel Alvarez gets out of solitary, Vasquez tries to avenge Carlo Ricardo's death by challenging Alvarez to a duel. However, Vasquez isn't quick enough to grab his shank and has his throat slit by Alvarez.
Proxy
Community content is available under
CC-BY-SA
unless otherwise noted.