Eugene Dobbins
First appearance
"Plan B" (episode 1.07)
Last appearance
"Sonata da Oz" (episode 6.03) (As Spirit)
Reason/Cause
Stabbed in the stomach by unknown black inmate during riot
Details
Prisoner No.
97D403
Aliases
None
Gender
Male
Age
25 (Deceased)
Date of Conviction
August 17, 1997
Date of Death
August 25, 1997
Affiliations
Augustus Hill & The Others
Spouse
None
Relatives
None
Kill Count
1
Episode Count
3 Episodes
Portrayed by
Zuill Bailey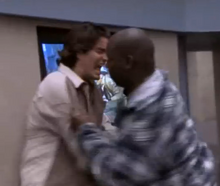 Eugene Dobbins was an inmate featured in Oz. Portrayed by Zuill Bailey.
Prisoner #97D403. Convicted August 17, 1997 - Murder in the 2nd degree. Sentence: 22 years, up for parole in 8.
Dobbins was given permission to practice his cello in the cafeteria each day for one hour. He explained to Hill that the cello was very priceless and he had requested it to be kept in the chaplain's office. Dobbins also admitted that he thought his cello was "lonely" as Dobbins was used to playing with over 100 other musicians in symphony orchestras, meaning "it" had no other instruments to play music with. Obviously this was masking his real statement, as it was actually Dobbins who was lonely - not the cello.
Dobbins was later attacked by Jackson Vahue for no real reason other that the fact that Vahue was high on drugs. Hill defended Dobbins, ending the (so called) friendship he had with Vahue (in reality, Hill idolized Vahue as he was an ex-basketball player and refused to believe he was a bad person until now) and demanded that he realized his "gift" and left him alone from now on. At this point another musician - a trumpet player - had joined Dobbins in the cafeteria, but the joy was short lived as an angry Vahue eventually managed to find where Dobbins's cello was hidden and destroy it.
With his most prized possession and way of life gone, Dobbins pretty much gave up on everything at this point and barely talked to anyone - not even Hill, and just sat watching television everyday by himself. Until one day, a riot broke out in Em City, and (for reasons never explained) Dobbins was stabbed by one of the prisoners. Ironically, it was his one time enemy Vahue who attempted to save him by taking him out of Em City and to hospital. Unfortunately the guards stopped them, and both Vahue and Dobbins where taken away (presumably to solitary).
After the riot ended, Vahue informed Hill that Dobbins had died as a result of his stabbing injuries.
Dobbins returns later as a spirit in the Season 6 episode, Sonata da Oz, where he can be seen playing music in the background of Hill's narrations.
Personal
Violinist: Stabbed in the back of the head with the end pin of Dobbins' cello. (1997)
Community content is available under
CC-BY-SA
unless otherwise noted.